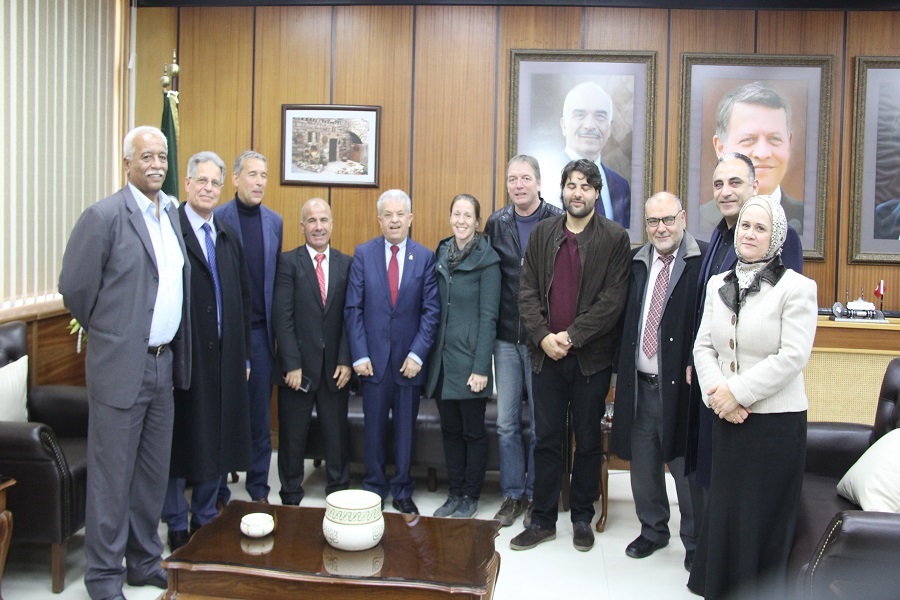 The president of YU, Dr. Zeidan Kafafi, met a delegation from the German development agency (GIZ) (Deutsche Gesellschaft für Internationale Zusammenarbeit) headed by the manager of the development project in Jordan, Mr. Henning Clark. The meeting comes during their visit to YU to enhance cooperation with the faculty of Physical Education and to carry out a joint project that aims at developing field training courses.
During the meeting, Dr. Kafafi stated that YU is ready to enhance the fruitful partnership with the German agency for international cooperation. He added that YU is ready to harness all YU's expertise and competencies to carry out international projects that aim at promoting education, which, in turn, will have positive impact on YU's academic reputation as well as the quality of its graduates.
For his part, Mr. Clark said that the agency is willing to enhance cooperation with YU in various fields in view of the distinguished academic reputation it enjoys, pointing out that the project will contribute to qualifying students with necessary skills and training courses that will help them enter job markets and make positive changes in physical education teaching methods in various Jordanian schools. He also pointed out that the targeted schools in northern Jordan will be equipped with the necessary sports' tools and equipment to develop the educational process.
The dean of the faculty of Physical Education, Dr. Nabil Shamroukh, expressed the faculty's readiness to carry out the project in cooperation with the German agency. He added that this project comes in view of the faculty keenness to qualify students according to recent international teaching methods, to prepare them to apply the skills and knowledge they learn at schools, and to discover and develop school students' skills. The dean further noted that, under this project, field training courses will be developed, new teaching strategies will be adopted, and advanced training courses will be offered for the students of the faculty.
The meeting was attended by the vice presidents Dr. Anis Khasawneh and Dr. Fawwaz Al-Abed Al-Haq, the dean of the faculty of Economics and Administrative Sciences, Dr. Mona Al Mola, the teaching staff of the faculty of Physical education and several officials from both sides.