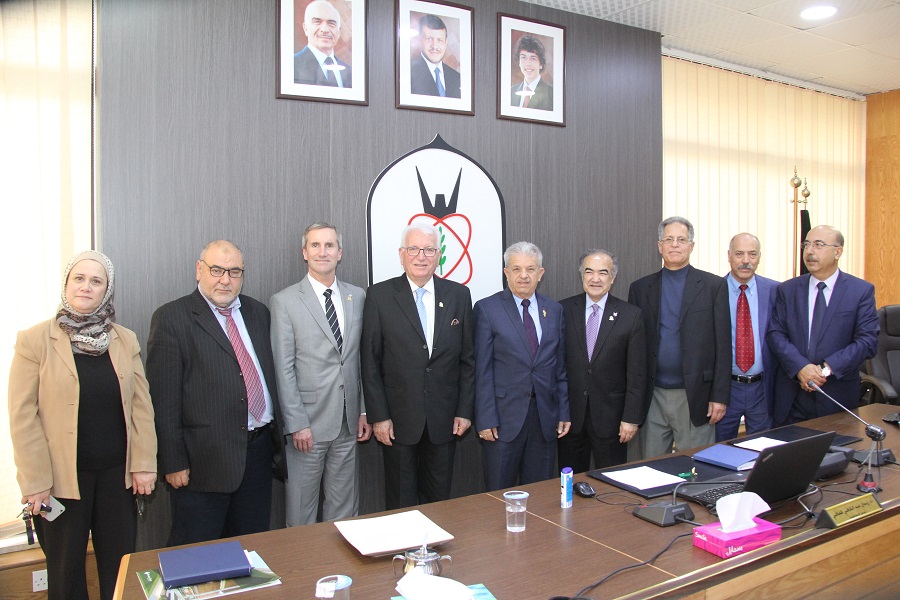 The president of YU, Dr. Zeidan Kafafi met a delegation from Portland State University, headed by its President Rahmat Shoureshi in the presence of former minister Dr. Mohi Alddin Touq. Possible avenues of cooperation between the two universities were discussed.
During the meeting, Kafafi stated that YU has a long history of cooperation with various American universities, confirming YU keenness to broaden cooperation with international educational institutions which contributes to the exchange of expertise and improves instructional processes at YU. Kafafi also confirmed the keenness of YU to send their students to pursue their higher education in American universities. He added that YU is willing to sign a MOU with Portland State University to enhance future cooperation in terms of staff and students' exchange and conducting joint research, in addition to inviting Portland State students to learn Arabic at the Languages Centre that attracts students from different countries on an annual basis.
For his part, Shoureshi reviewed the programs offered by Portland University and expressed their willingness to extend the bridges of cooperation with YU in various fields, particularly in economics, Business Administration, and education. He also expressed their willingness to establish joint academic programs for BA and MA degrees in areas of common interest, pointing to the distinguished academic reputation that YU enjoys in the region.
Touq stressed the importance of increasing international universities' knowledge of the Jordanian universities' experience in the field of higher education and exploring the possibility of cooperation with such universities in various areas of common interest, particularly in the field of distant online learning, which enriches teaching processes and contributes to the improvement of graduates.
The meeting was attended by the vice presidents, Dr. Fawwaz Al-Abed Al-Haq, and Dr. Anis Khasawneh, dean of Economics and Administrative sciences faculty, Dr. Mona Mola, dean of Education faculty, Dr. Nawwaf Shatnawi, dean of scientific research and graduate studies, Dr. Qasim Hammouri, and the dean of the faculty of Business at Portland State University, Dr. Cliff Allen.