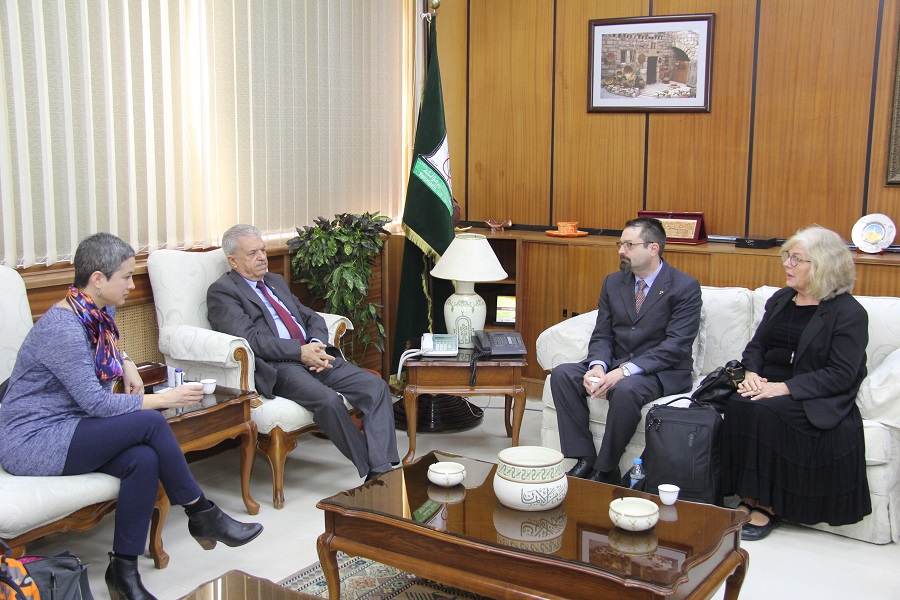 The president of YU, Prof. Zeidan Kafafi, met with a delegation from the American University of Purdue, represented by Dr. Kory Cooper, Dr. Allen Greenbaum and Dr. Michael Boson. Possible avenues of cooperation between the two parties were discussed.
At the beginning of the meeting, Dr. Kafafi reviewed the majors YU offers in its different scientific and human faculties, stressing the importance of enhancing cooperation with international universities to exchange educational experiences among faculty staff members, and to provide students with opportunities to pursue their graduate studies through exchange programs. The president also pointed to the possibility of conducting joint research and scientific projects in the fields of archaeology, anthropology, tourism and hotels, engineering, pharmacy, and medicine.
For their parts, the members of the delegation expressed the willingness of Purdue University to cooperate with YU in various fields, particularly in the fields of archaeology, anthropology, and tourism and hotel management for their direct connection with projects dealing with cultural heritage and civilization.
The members of the delegation also reviewed the many majors that Purdue University offers in scientific, medical and human fields in addition to the multidisciplinary degrees that combine more than one major such as biomedical engineering.
The meeting was attended by Vice Presidents of the University Prof. Ahmad Al-Ajlouni and Prof. Fawwaz Al-Abed Al-Haq, Dean of the Faculty of Medicine Dr. Wisam Shihadeh, Dean of the Faculty of Archaeology and Anthropology, Prof. Hani Hayajneh, the Director of the Department of International Relations and Projects, Dr. Mwaffaq Otoom, and the Director of the Department of Public Relations and Media, Mr. Mukhles Al-Ibbeni.