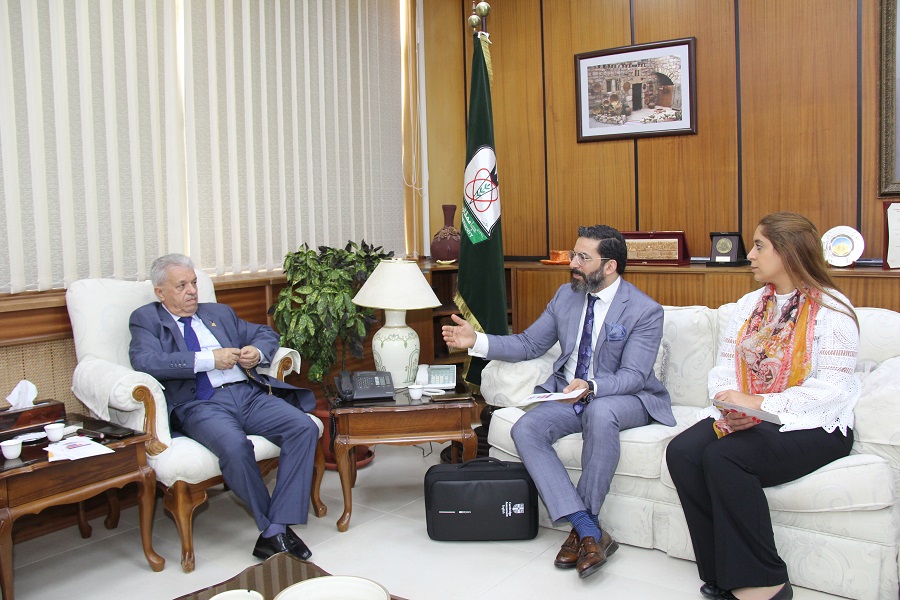 The President of YU, Dr. Zeidan Kafafi met a delegation from the University of Cambridge, which included Ramiz Haddadin, the Cambridge English Regional Commercial Head in the Middle East, Turkey, Africa, South and Central Asia, and Jane Al-Qus, the director of Business Development for the Cambridge English exams in Jordan, the United Arab Emirates, Iraq, Kuwait and Lebanon. During the meeting, future plans of cooperation were discussed.
At the beginning of the meeting, Dr. Kafafi stressed the keenness of YU to cooperate with the prestigious university of Cambridge in various academic and research fields that positively impact the educational process at the university, as well as the faculty members. Dr. Kafafi also expressed the readiness of YU to consider the proposal of Cambridge for applying the "Linguaskill", a program prepared by the University of Cambridge to accurately measure the students' English language skills.
For his part, Haddadin explained that the "Linguaskill" measures students' English language skills through several levels, starting from the easiest to the most difficult: "Pre A1, A1, A2, B1, B2, C1, C2". He also stated that, upon the completion of the exams, students receive a certificate from the University of Cambridge.
Haddadin also pointed to the possibility of enhancing cooperation between the two parties through a memorandum of understanding that aims at conducting joint research among the faculty members of both universities.
The meeting was attended by Prof. Yousef Bader, the deputy Dean of the Faculty of Arts, and Dr. Lutfi Abulhija, the head of the Department of English Language and Literature.