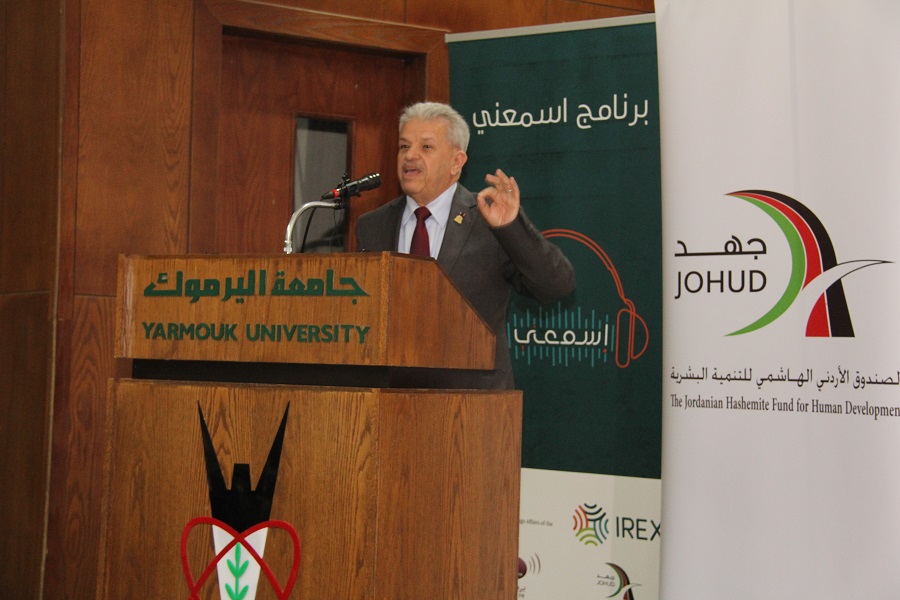 In the presence of President Prof. Zeidan Kafafi and the Dutch ambassador in Amman, Barbara Joziasse, the executive director of the Jordanian Hashemite Fund for Human Development (JOHUD), Farah Daghestani, sponsored the graduation ceremony of the first batch of students participating in Isma'ni "Listen to me" program. The program is implemented by the International Foundation for Research and Exchange in Jordan (IREX) in cooperation with the Faculty of Mass Media in the University and the Jordanian Hashemite Fund for Human Development. The program is funded by the Ministry of Foreign Affairs of the Netherlands.
Dagestani stressed the importance of educating youth on how to properly use their talents through providing them with specialized courses and workshops, like that of "Isma'ni".
Dr. Kafafi stated that Jordan has qualified human resources that lead to success, and that the graduation of this batch is a proof for the efficiency and excellence of YU students. He also spoke of the effective role of media in the present time, and how YU pays extra attention to it.
Bilal Al-Khasawneh, a member of the Advisory Committee of the program, said that the advisory and Guidance Committee have provided students with advice and counseling and encouraged them to produce programs in a way that serves the local community.