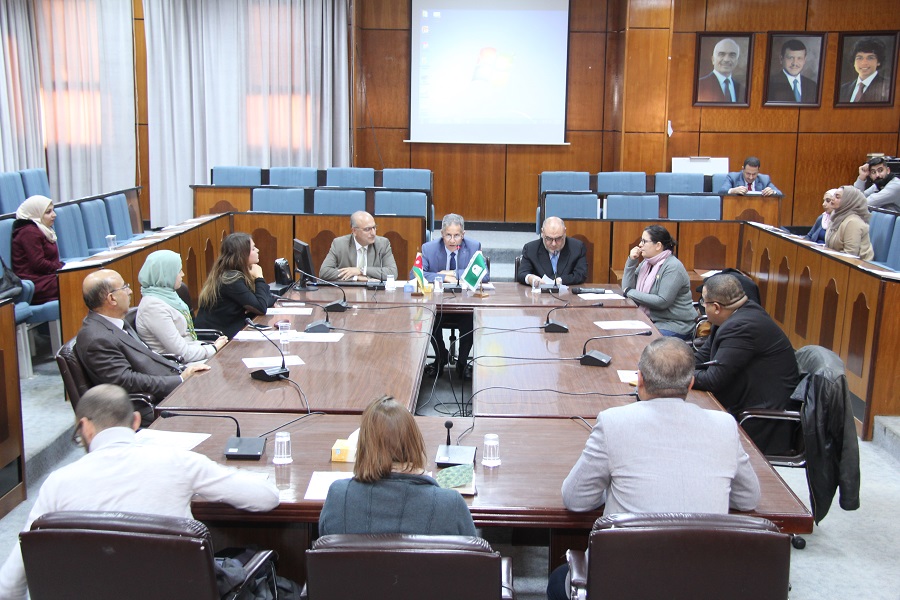 Vice president Prof. Anis Khassawneh inaugurated a workshop entitled "History and Architecture Diwan", organized by the Faculty of Archaeology and Anthropology at the University, and the French Institute for the Near East in cooperation with the German University of Jordan, the Department of General Monuments, the French Embassy, the Gerda Henkel Foundation, the British Research Institute and the German Protestant Institute of the Monuments of the Holy Land, in the presence of Vice president Prof. Fawwaz Al-Abed Al-Haq.
Dr. Khassawneh welcomed the participants in this interactive workshop, dedicated to presenting papers by graduate students to encourage them to do research. He also called other faculties of YU to follow the Faculty of Archaeology and Anthropology in this respect.
For his part, the Dean of the Faculty of Archaeology and Anthropology, Prof. Hani Al-Hayajneh said that the workshop aims at raising awareness about research in architecture and antiquities in Jordan, noting that this workshop is a platform for presenting the research of a group of distinguished graduate students, who they are proud of. The dean called on educational and research institutions to invest the creativity of their youth.
Dr. Suazik Bashtwal, from the French Institute for the Near East, said that the workshop is designed to promote research opportunities between the European and Jordanian universities in the field of antiquities and architecture in Jordan. She added that the workshop is a unique opportunity to share knowledge and experience, and an opportunity for the students to benefit from the participating educational and research institutions.
The workshop consisted of three sessions: the first was headed by Dr. Maher Tarboush, the second was headed by Dr. Abd Al-Rahim Ahmad and the third was headed by Dr. Ahmad Abu Dalo.
The opening session was attended by the Dean of Scientific Research and Graduate Studies, Dr. Qasim Hamouri, a number of faculty members, and students at the Faculty of Archeology.