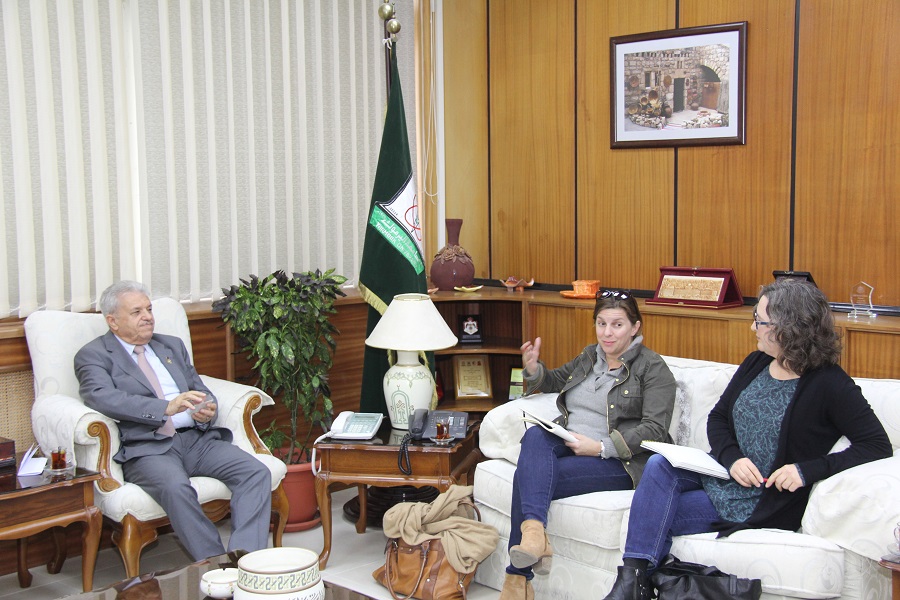 The President of YU Dr. Zeidan Kafafi discussed possible avenues of research cooperation between YU and Bard College, with the Vice President of Bard College, Dr. Rebecca Granato and the Dean of International Programs at the college Dr. Allen Hanil.
Dr. Kafafi stressed that YU welcomes all forms of scientific and research cooperation that improve educational and research processes at YU, pointing that the Refugees, Displaced Persons and Forced Migration Studies Center at YU has conducted many research projects that have had positive impact on refugees in Jordan in cooperation with various international organizations.
Dr. Kafafi further pointed to the possibility of collaborating with Bard College in a project for designing online courses and including them in the study plan to enable Jordanian students and refugees to join them.
Dr. Granato, for her part, expressed Bard College's endeavor to collaborate with YU in view of the distinguished reputation it enjoys at the international level. She pointed that the project they intend to launch with YU in 2019 includes designing a multidisciplinary online course that covers issues of human rights from historical and literary perspectives. Dr. Granato added that the course will include 10 students from YU, 20 refugees from Irbid City, and 15 students from Al-Quds Bard College in Palestine (AQB), and that professors from both AQB and YU will cooperate in teaching it. The program, as Dr. Granato stressed, is designed for the refugees and students to exchange ideas and to work together toward goals that concern them in the field of higher education.
The meeting was attended by Vice Presidents Prof. Anis Khassawneh, Prof. Ahmad Al-Ajlouni, and the director of the Department of International Relations and Projects, Dr. Mwaffaq Otoom.