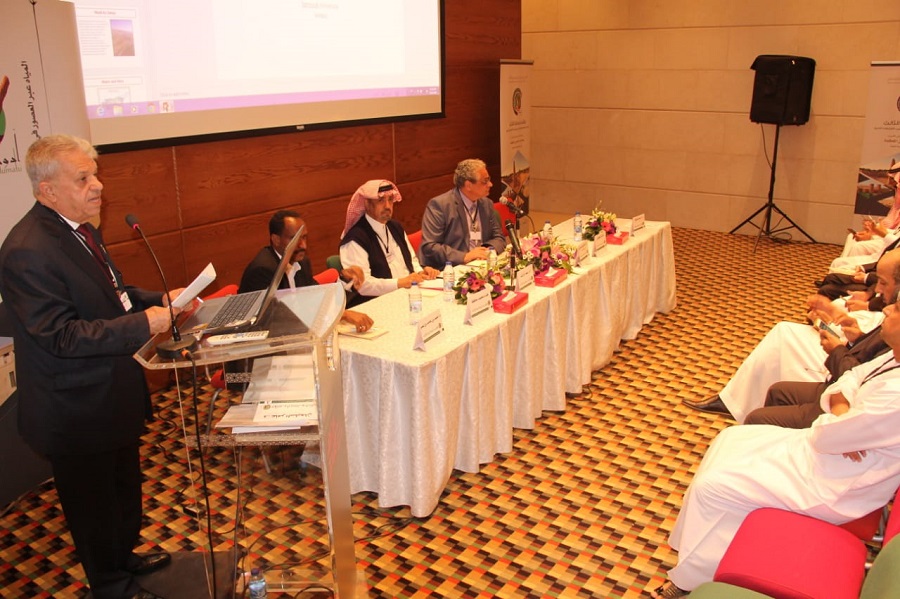 On behalf of HRH Princess Sumaya bint El Hassan, President of the Royal Scientific Society, Prof. Zeidan Kafafi inaugurated Adumantu Journal III conference under the title "Water through the Ages in the Arab World in Light of Archaeological Discoveries" which was organized by AbdulRahman Al-Sudairy Cultural Center in Saudi Arabia. The conference took place in "Jordan Museum" on Oct. 10th and included the presentation of 34 papers.
During the opening ceremony, Kafafi delivered a speech and stated that the oldest human remains in our Arab world go back to more than a million years during which man left cultural and civilizational prints that emphasize the civilized dimension, and pointed out that the Arab world witnessed the beginning of writing and alphabets, the establishment of cities and states, trade, emergence of religions, and the appearance of apostles and prophets. Kafafi added that the conference deals with an important topic; the available water resources in the Arab world in light of archaeological discoveries and the most important world civilizations emerged on the banks of rivers such as the Mesopotamia, Nile, Sindh and King. He finally thanked the officials in AbdulRahman Al-Sudairy Cultural Center for choosing Jordan as the venue for this conference, as well as the scientists in and out of the Arab world.
The President of the Conference, Chairman of the editorial board of Adumantu Journal Dr. Khalil bin Ibrahim Al-Maaqil said that this conference aimed at highlighting the aquatic techniques used by humans throughout ages through archaeological research and identifying the environmental influences that contributed to affect the water resources through showing examples from archaeological sites, and providing an opportunity to meet with specialists in archaeological and environmental studies, and offering future research depictions. He focused on the universality of the conference since it holds scientists and experts in archaeological studies representing Arab and international universities and institutions in addition to experts from Jordanian and Saudi universities.
The Director of AbdulRahman Al-Sudairy Cultural Center, Hussein bin Ali Al-Khalifa, stated that this scientific forum is in line with the center's objectives, which call for supporting the scientific and cultural movement in addition to research and scientific studies.