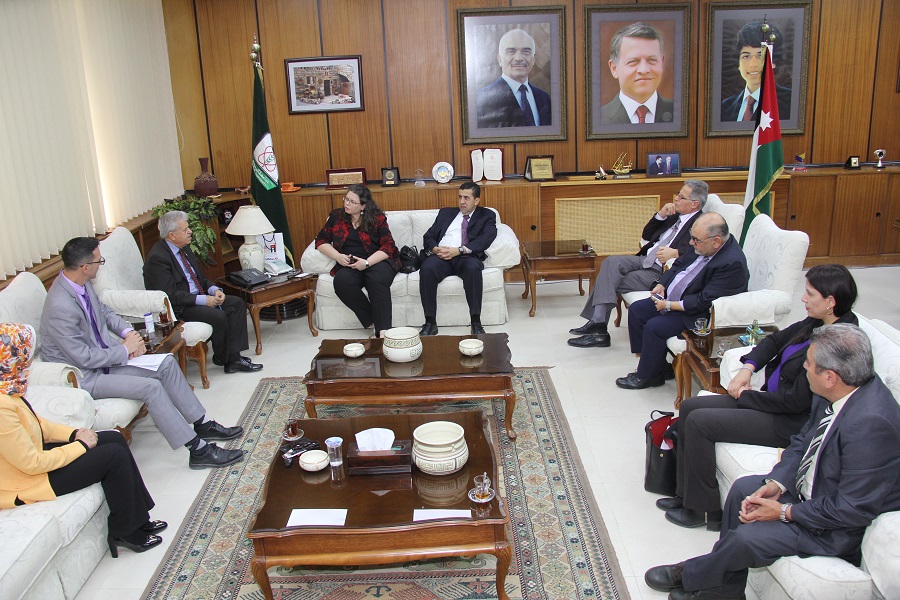 Prof. Zeidan Kafafi welcomed a delegation from the US Embassy in Amman, which included the Cultural Affairs Officer Peter Neisuler Ilschuler, the Counselor for Public Affairs, Adrienne Nutzman, and the Cultural Affairs Specialist, Ruba Hattar on Oct. 13
Kafafi pointed to the cooperation between Yarmouk University and several US Higher Education Institutions which included several research projects and programs of exchange for both students and faculty members. He added that the University is interested in expanding cooperation through scholarships, lectures and workshops on educating students with exchange programs, and study opportunities. He further announced that the university in collaboration with the US embassy intends to hold a corner for the American culture in Al-Hussein bin Talal Library. He also called for attracting US faculty members to teach in the faculties of Yarmouk University.
The delegation members focused on the intention of the US embassy in supporting the cultural and academic exchange programs between various American universities and Yarmouk University and clarified the various grants presented by the embassy and its procedures for setting the US cultural corner. They presented a lecture on the academic and cultural exchange programs dedicated for the students of Yarmouk University in addition to a lecture for the students of English Language and Literature on American literature presented by Peter Neisuler and Ruba Hattar.