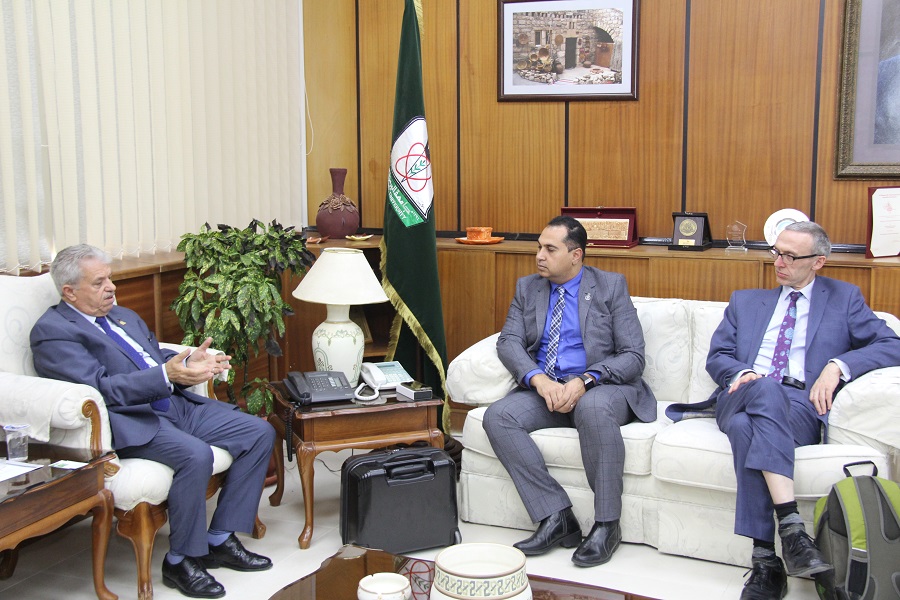 President Prof. Zeidan Kafafi welcomed a delegation from the faculty of Pharmacy at the University of Strathclyde. The delegation included Dr. Ibrahim Khadra and Dr. Robin Plaven who discussed cooperation between the faculties of pharmacy in both universities.
Kafafi confirmed the attention payed to the Faculty of Pharmacy which was recently established, through providing it with all the needed equipment for the educational process in the faculty and through attracting qualified faculty members, and holding agreements with international universities. He also affirmed the need to strengthen cooperation with the University of Strathclyde in pharmacy through the exchange of faculty members and students between the two universities, and the possibility of establishing a joint Master program between the two universities in pharmacy.
Khadrah stated that the University of Strathclyde has about 22,000 students and is considered one of the first 250 universities worldwide, and he asserted that the University of Strathclyde is ready to enhance cooperation with Yarmouk University in pharmacy through a memorandum of understanding that would give an opportunity to share experiences and knowledge among academics from both sides. Khadra pointed that 50 grants are provided annually for students wishing to precede their studies, which will give a chance for Yarmouk students to benefit from these grants.
Vice President Prof. Ahmad Al-Ajlouni and Deans of the Faculties of Pharmacy and Science Prof. Sayer Al-Azzam and Prof. Nihad Yusuf attended the meeting.