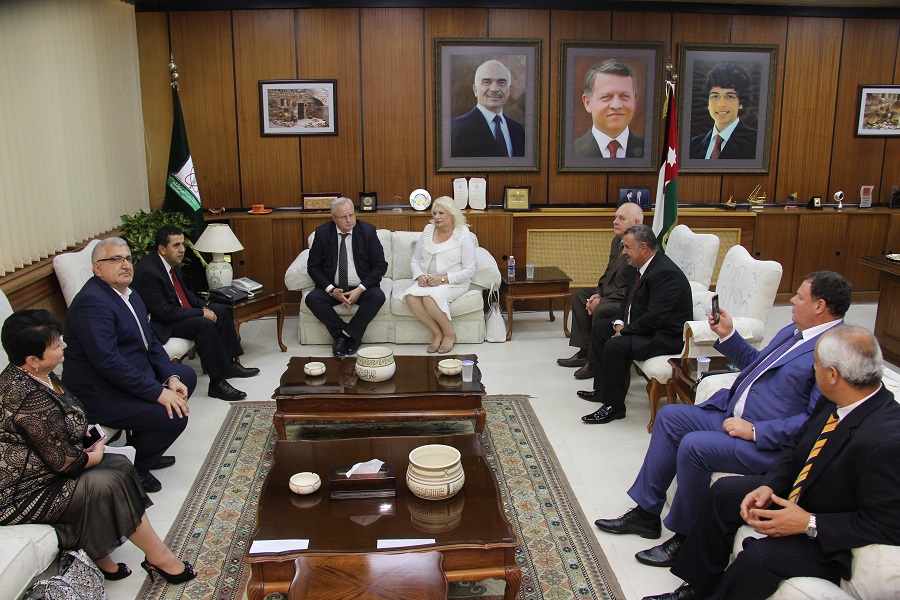 Vice president Prof. Ahmad Al-Ajlouni discussed possible cooperation with the President of Stavropol State Medical University in Russia Prof. Kshel Vladimir on Oct. 17.
Al-Ajlouni stated that the university has recently established two academic programs of Medicine and Pharmacy, pointing to the University's keenness to appoint distinguished faculty members and to provide the latest equipment needed for the educational process, in addition to sending distinguished students to pursue their studies at prestigious international universities in the medical field. He also expressed Yarmouk's readiness to cooperate with Stavropol State Medical University in Russia through the exchange of faculty members and scientific expertise between the two sides, as well as the possibility of receiving some students to be trained for two months.
In his turn, Vladimir expressed Stavropol's willingness to collaborate with Yarmouk University in the medical field through the exchange of students and faculty members. He added that the University was founded 80 years ago and it is specialized in medical education with 6,000 male and female students representing different nationalities, including Jordanian.
The meeting was attended by Prof. Wisam Shihadeh, Dean of the Faculty of Medicine, and a number of officials from both sides.