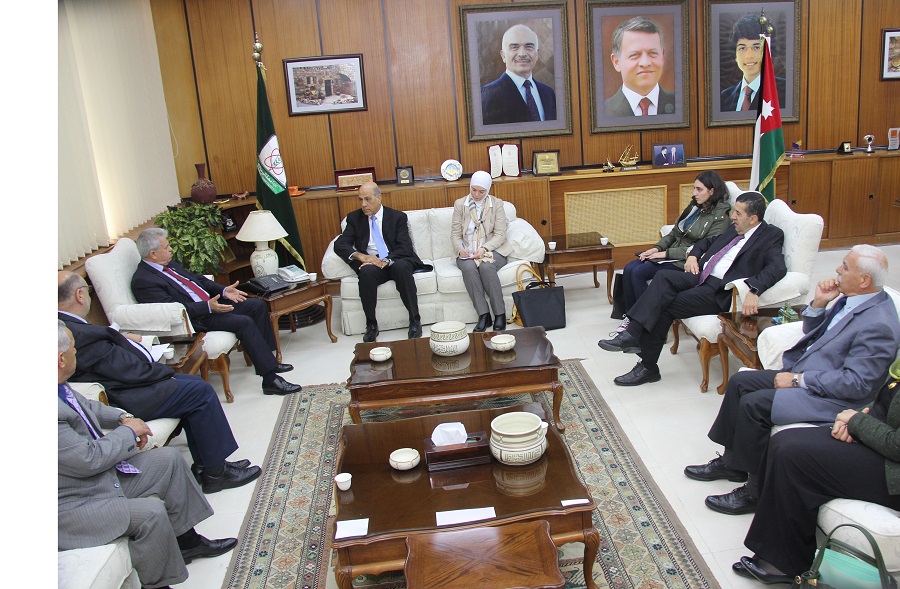 The president of Yarmouk University, Prof. Zeidan Kafafi met Erasmus+ Jordan office Director Dr. Ahmad Abu El-Haija to discuss the procedures of implementing projects funded by Erasmus+ and carried out by Yarmouk University.
Kafafi highlighted the keenness of Yarmouk University to encourage students and faculty and administrative staff to participate in Erasmus+ projects funded by the European Union; including student exchange and capacity building programs. He added that it is essential for universities to raise awareness regarding the scientific research in various scientific, medical, literary and human aspects.
Abu El-Haija praised the advanced level of projects submitted by Yarmouk University researchers supported by Erasmus+ and explained that the plans of 2014-2020 are focused on student exchange and capacity building in higher education; he referred to the need for a committee in the University that includes one of the Vice Presidents, the Dean of the concerned faculty and the Director of International Relations Office; this committee will select participants in the student exchange projects and apply the selection criteria for both receiving and sending parties with integrity, transparency and equality. Abu El-Haija further explained the mechanisms and conditions for selecting projects and he ensured that all the projects implemented at universities are institutional rather than personal projects, and that they aim to enhance the capacities of these institutions, to develop the abilities of employees and to equip laboratories and scientific facilities with necessary equipment.
The meeting was attended by Vice Presidents Prof. Ahmad Al-Ajlouni and Prof. Fawwaz Al-Abed Al-Haq, Dean of the Faculty of Science Prof. Nihad Yusuf, Dean of the Faculty of Arts Prof. Mohammed Bani Doumi, GEO4D coordinator Dr. Rana Al-Jawarneh, the Director of International Relations and Projects Dr. Mwaffaq Otoom and the Director of Public Relations Mr. Mukhles Al-Ibbeni.
During their visit to the University, Abu El Haija and Dr. Rima Al Khader met the research team of "Geodesy and Geoinformatics for Sustainable Development in Jordan GEO4D" project to follow-up on implementing the project and provide advice for some aspects; the research team plans to establish three scientific laboratories in Geodesy and GIS at Jordanian universities, establish three MA programs, and activate e-learning in order to achieve quality assurance in teaching Geodetics.