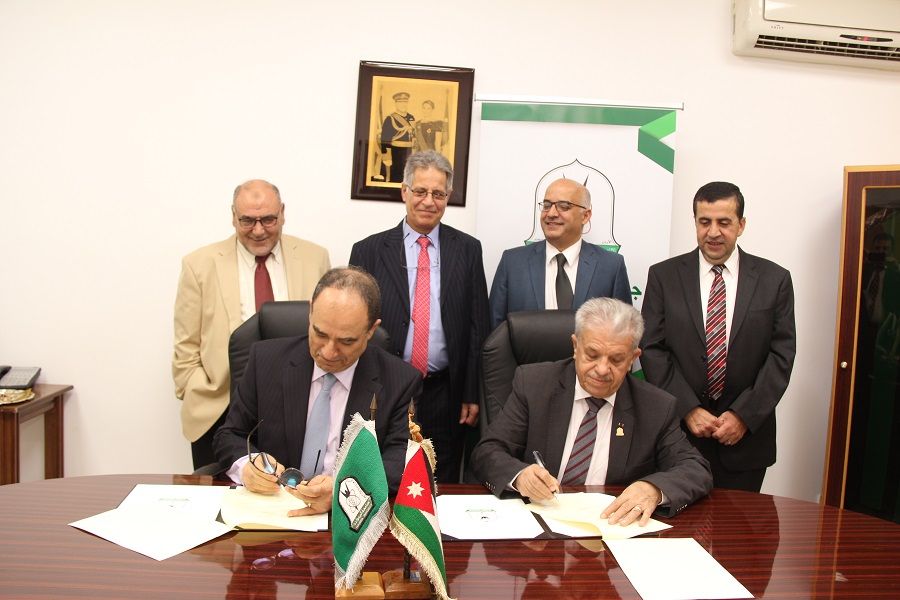 An agreement of cooperation was signed on Oct. 18 between Yarmouk University and the Doha Institute for Graduate Studies represented by Dr. Yasser Maali regarding receiving graduate students from Yarmouk University with the presence of Vice Presidents Prof. Fawwaz Al-Abed Al-Haq, Prof. Ahmad Al-Ajlouni and Prof. Anis Khassawneh as well as Dr. Muhannad Al-Mubaidin.
The agreement provides that distinguished BA students would be able to pursue their postgraduate studies in social and human sciences, public administration, development economics, psychology and social work, conflict management and humanitarian work at the Institute; the agreement also indicated that the Institute allocates grants to Yarmouk students annually to cover tuition fees, accommodation, and health insurance, and that a committee would be appointed to study nominations and to conduct interviews with candidates.
Kafafi stated that the agreement provides an opportunity for students of the University to study in such an institute with a distinguished academic reputation. On the other hand, Al-Maali praised the prestigious scientific reputation of Yarmouk University at the Arab level and added that the Institute intends to increase the number of Jordanian students studying there. He also presented information about the establishment of the Institute which offers 17 MA programs in social, human and administrative sciences, adding that they aim to establish a Master program in human rights as well as a PhD program.