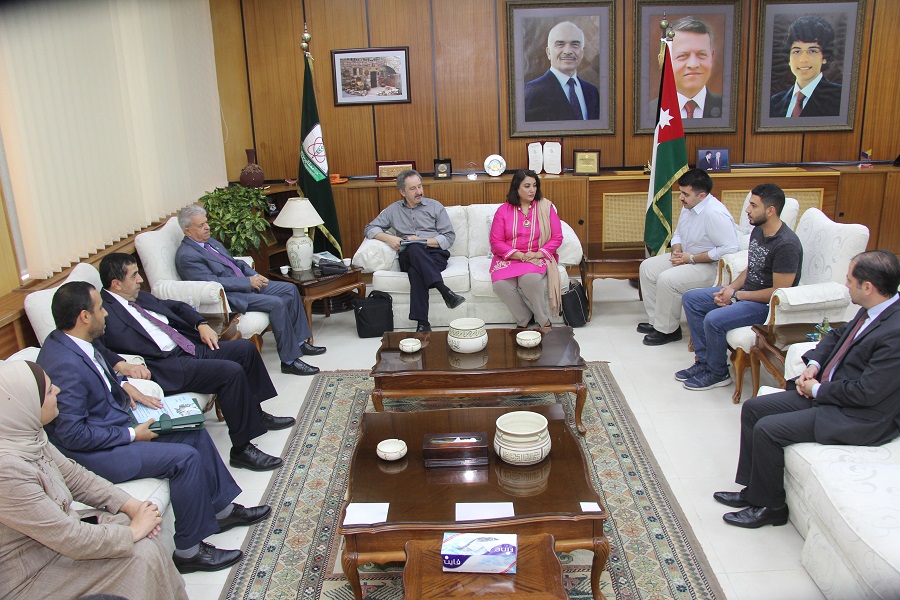 The president welcomed an American delegation included Dr. Farha Abbasi from the College of Medicine at Michigan State University and Mr. Steve Olweean, the Director of Common Bond Association to discuss means of developing the joint training program between the two universities in the field of social work and mental health on Oct. 23rd.
During the meeting, Kafafi stated that the University seeks to enhance its scientific and research cooperation with prestigious international universities in various academic fields including the American University of Michigan which has a prestigious international reputation through developing the training program in cooperation with the American Association of Common Bond that includes students of the faculties of Medicine and Sharia and Islamic studies. This program succeeded in attracting students from 2016 until now. Kafafi also indicated the possibility to create a joint MA program in medical specializations such as public health and also to allow students from the Faculty of Medicine at the University to study and to have training at the MSU.
Members of the delegation also praised the efforts of Queen Rania Center for Jordanian Studies and Community Service and the Department of Sociology and Social Service in implementing a training program on social work and mental health that would lead to a cooperation agreement that would be beneficial for students studying in the faculties of Medicine and Sharia and Islamic Studies.