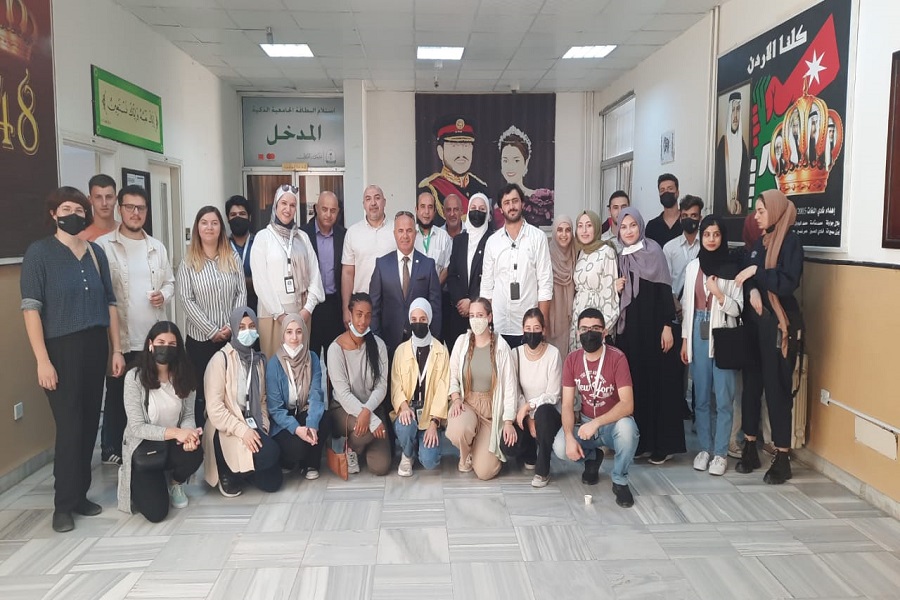 The Dean of the Students Affairs at Yarmouk University, Dr. Muhammad Khalaf Thiabat, affirmed Yarmouk's pride in being a destination for international students participating in the "Erasmus+" student exchange program, stressing that the Hashemite Kingdom of Jordan is the right home for international students looking for safe stay, good luck, and success.
While receiving a group of international students participating in the "Erasmus Plus" program, Thiabat said that the university spares no effort for providing students with all available services and facilities to help them get involved in the university community and continue their studies easily and serve as ambassadors for Yarmouk wherever they go. He then encouraged students to take advantage of the various cultural services that the Deanship provides throughout the academic year, such as joining the university and ceramic studio as well as playing recreational games like billiards and chess.
On the sidelines of the reception, the Deanship of Students Affairs organized an introductory tour for international students showing them the various facilities of the Deanship and briefing them on the various services they provide.
In their turn, the delegation of international students, which includes 15 male and female students coming from Spain, Germany, Romania, Turkey and Belgium thanked the university for the inspirational reception and treatment, wishing the university further progress and success.