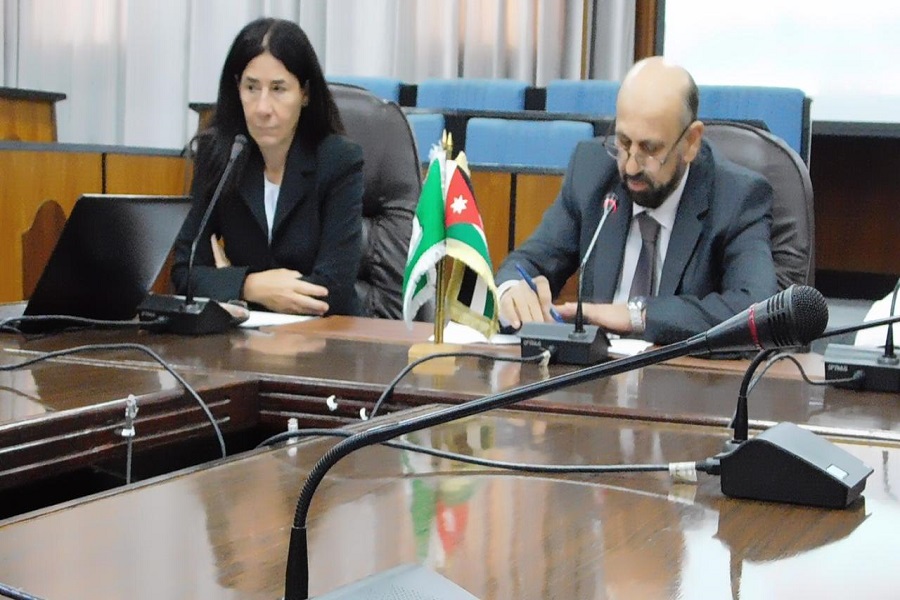 The Vice President of Yarmouk University for Administrative Affairs, Prof. Riyad al-Momani, sponsored the graduation ceremony of the participants in the fourth and final cycle of the psychosocial support project implemented by the university through the Refugees, Displaced Persons and Forced Migration Studies Centre in partnership with the German Agency for International Cooperation GIZ, for 15 male and female Jordanian and Syrian trainees.
During his speech at the graduation ceremony, which was attended by the Director of Projects at the German Agency for International Cooperation (GIZ), Dr. Christine Muller, Momani said that Yarmouk University supported by the Psychosocial Support and Trauma Project of the German Agency for International Cooperation (GIZ) in Jordan holds this session for the fourth time since 2018 and that it always targeted groups of graduate students of Jordanian and Syrian nationalities concerning the psychological and social support for society in the context of forced migration.
He added that the course aimed at enhancing the psychological and social competencies of university graduates from various majors, thus preparing them to provide psychosocial support services for refugees, migrants and Jordanian citizens by integrating theoretical inputs and practical exercises as well as the knowledge they gained during the training course that incorporates a two-week field activity in an organization known for its commitment to implementing psychosocial support services in Irbid.
The director of the Refugees, displaced persons and forced migration studies center, Dr. Anas Subh, explained that the project reflects the university's involvement in any activities concerning improving people's life conditions and that the center -within the framework of the psychological and social support and trauma in Jordan of the (GIZ)- is implementing the university's vision.
At the end of the ceremony, al-Momani handed over certificates to the graduates.