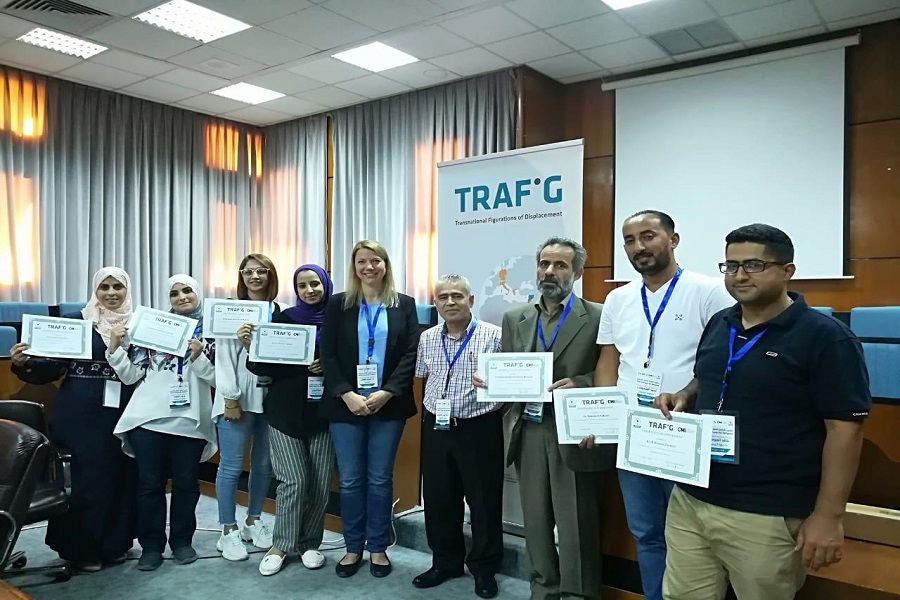 Yarmouk University organized a special workshop via Zoom to announce the final results of the "Transnational Figurations of Displacement" project (TRAFIG)", which is funded by the European Union and implemented by the university in cooperation with the Bonn International Center for Conversion (BICC) and CMI (Chr. Michelsen Institute), Norway.
At the beginning of the workshop, the project manager at the university, Dr. Fawwaz Momani, gave a brief about the project, which aims at building the necessary knowledge to find effective solutions for the problems of protracted displacement in proportion to the capabilities of the people affected by displacement. He then reviewed the project methodology, which contains five main axes that deal with laws and regulations related to the reception and sheltering of refugees, livelihoods and security in local environments, communication and mobility in the context of protracted displacement, the integration of displaced people, intergroup relations with host communities, and incentives for development and new economic interactions.
Momani mentioned that the results of the project showed that 63% of Syrian refugees in Jordan receive support from various organizations and parties and that humanitarian aids are insufficient to face the difficult conditions of refugees. The results of the project also showed that the situation of refugees in Zaatari camp is better than that of refugees outside the camp in terms of aids and job opportunities and that 83% of Syrian refugees do not intend to return to Syria within the next two years compared to only 12% who intend to return to Syria.
After that, the project's results were presented by Dr. Tamara Al-Yaqoub from the Faculty of Economics and Administrative Sciences at Yarmouk University and Dr. Raghda Al-Faouri, Assistant President of AL Al-Bayt University for International Relations.
Interestingly, the project team from Jordan includes Dr. Rashid Al-Jarrah, Dr. Tamara Al-Yaqoub, Dr. Raghda Al-Faouri and Dr. Ali Odat from Yarmouk University, besides the field researchers: Dr. Rasha Al-Hasban, Woroud Awwad, Rola Massad, Ahmed Shdeifat and Khaled Al-Momani as well as Dr. Sarah Toban and Dr. Ari from the (CMI).