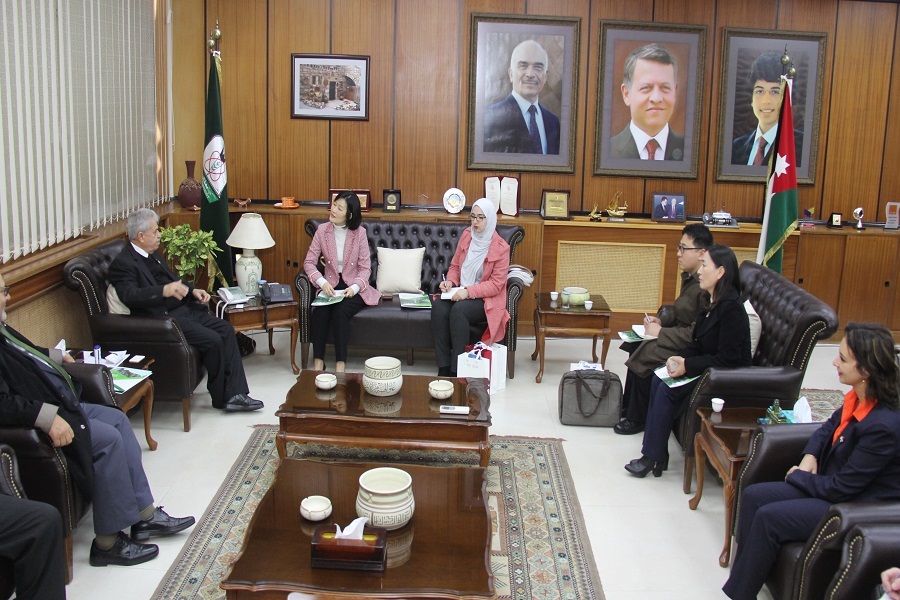 President of YU, Dr. Zeidan Kafafi, met with the country director of the Office of the Korea International Cooperation Agency (KOICA) in Jordan, Ms. Hyo Jin Kim and the accompanying delegate. During the meeting, the two sides discussed means and ways of cooperation and the possibility of creating a sub-major in Korean language at the modern Languages department.
Kafafi stressed the keenness of Yarmouk to strengthen cooperation with the Korean Agency in various fields, pointing to the possibility of receiving specialists and academics to teach or train in various academic disciplines, especially in communications at the Hijjawi Faculty for Engineering. Kafafi, also, praised the agency's support through providing a Korean instructor to teach Korean language courses offered by Modern Languages Department, pointing to the possibility of creating a sub-major in Korean language.
The president stressed the importance of activating cooperation between the two sides, and increasing opportunities for students and faculty exchange, which enriches students' knowledge and encourages experience's exchange. He also added that YU may send students to be trained in distinguished Korean institutes, particularly in communications, and thanked the agency for the collection of books they gave to Al Hussein Library.
For her part, Kim praised the outstanding academic reputation of YU and expressed their readiness to support the university and take necessary measures to activate cooperation between them, and between Yarmouk and various Korean educational institutions.
The meeting was attended by Vice presidents, Dr. Ahmed Al Ajlouni and Dr. Fawwaz Al-Abed Al- Haq, vice dean of the Faculty of Arts, Dr. Yousef Bader, head of the Dept. of Modern Languages, Dr. Batoul Al-Muheisen, and the director of Public Relations and Media department, Mr. Mukhles Al-Ibbeni.