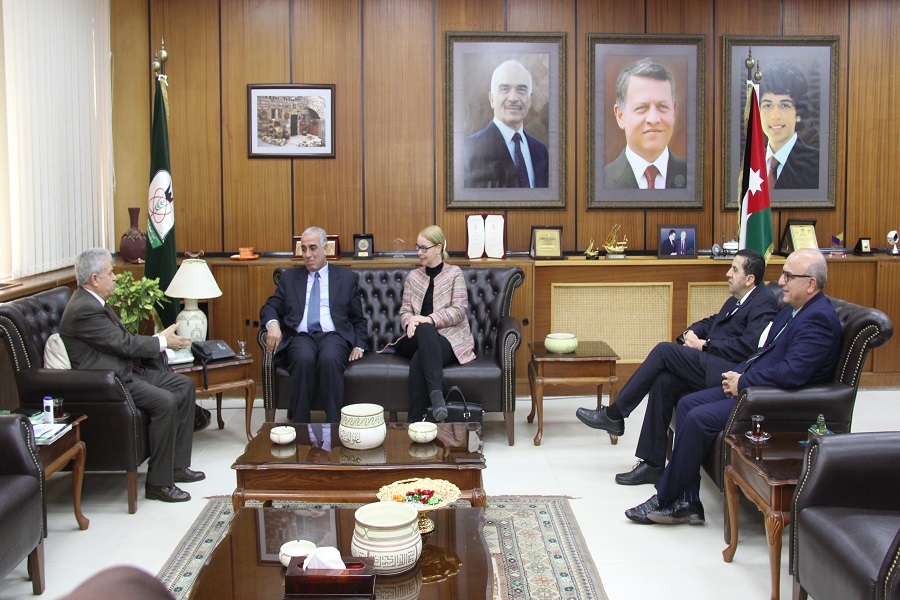 The president of YU, Dr. Zeidan Kafafi, met with the vice presidents of the German-Jordanian University, Dr. Atef Kharabsheh and Dr. Dorit Schumann. Means and ways of cooperation between the two universities were discussed.
During the meeting, Kafafi stressed the importance of cooperation among Jordanian universities to establish qualitative academic programs for various degrees to meet students' aspirations and to keep up with the job market's requirements, which in turn, positively impacts the educational process and promotes higher education. He added that YU has strong relationships with various German educational institutions, and that YU is keen to activate cooperation that benefits the university and the students.
Kafafi pointed to the possibility of cooperation in terms of faculty exchange, and students' scientific visits. He also pointed to the possibility of sending students from the Hijjawi Faculty to receive training in German institutions with the German-Jordanian University performing as a link. The president added that cooperation can, further, be in terms of conducting joint scientific research, as well as experience's exchange to improve the teaching process in the two universities, and to prepare students with necessary skills to enter local and Arab job market, praising the academic reputation that the German- Jordanian University enjoys.
For their part, Kharabsheh and Schumann expressed the readiness of the German-Jordanian University to cooperate with YU, which enjoys a distinguished academic reputation in various academic fields, and the possibility of establishing joint programs for the master's degree, particularly in engineering and information technology. They added that cooperation between various Jordanian universities is necessary as it contributes to improving the quality of higher education outcomes in Jordan.
The meeting was attended by Vice president, Dr. Ahmad Al-Ajlouni, dean of the Faculty of Archaeology and Anthropology, Dr. Hani Hayajneh, and officials from the university.