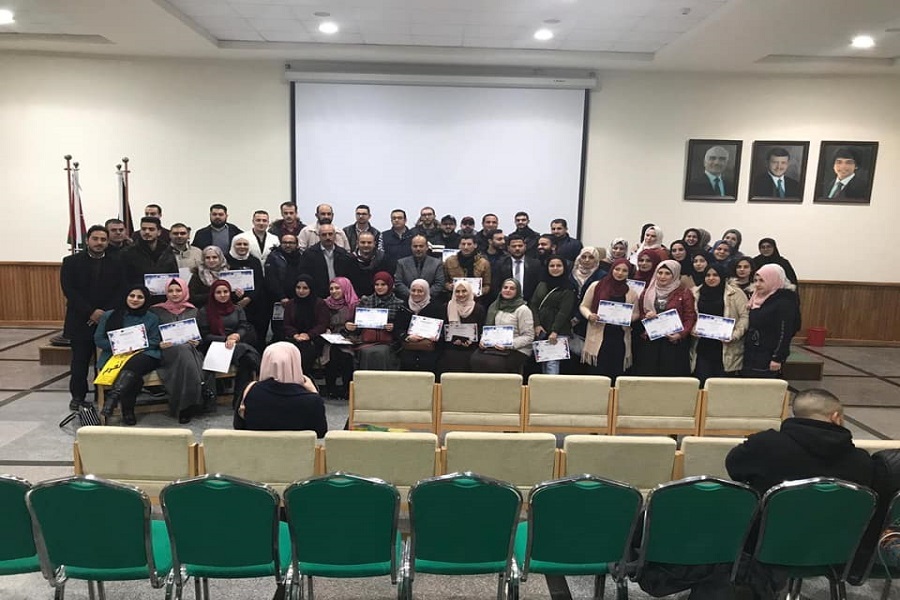 The faculties of Information Technology and Computer sciences, and Hijjawi for Technological Engineering at YU organized the graduation ceremony of the second batch of "PFISR" and "TEFSR" projects. The projects are supported by the European Union under the "HOPES" program grant, which is funded by the European Union Regional Trust Fund "MADAD" in response to the Syrian crisis, and implemented by the German Academic Exchange Service "DAAD" in partnership with the British Council, Campus France, and the Dutch Organization for Internationalization in Education "Nuffic".
The dean of the Faculty of Information Technology, Dr. Samer Samara and the dean of the Faculty of Hijjawi for Engineering Technology, Dr. Ahmed Al-Shamali, stated that the two projects open new horizons for Syrian students at Jordanian universities, and assist them during and after university education in terms of job's seeking, and career path's building that enable them to cope with their country's crisis and displacement, through transferring basic skills in Web applications, networks, e-commerce, and computer maintenance to Syrian refugees and community members.
The project's manager, Dr. Anas Al-Sobh, said that "120" students were graduated, and more than 50 students were qualified for Training for Trainers (ToT) in accordance with YU's plan to qualify students for the job market and provide them with the necessary knowledge and expertise. The work team of TEFSR, which included Dr. Amani Shatnawi and Dr. Anas Al-Sobh provided practical courses in websites and e-commerce sites' programming. However, The PFISR team work which included Dr. Mohammed Al-Jarrah, Dr. Anas Al-Sobh and Dr. Amin al-Jarrah provided practical courses in computer networks design and maintenance, Web site programming and computer hardware maintenance.
The graduation ceremony was attended by the director of the Refugees, Displaced Persons and Forced Migration Studies Center, Dr. Ayat Nashwan.
It is worth noting that a new batch of students who are eligible to join the program will be received soon.