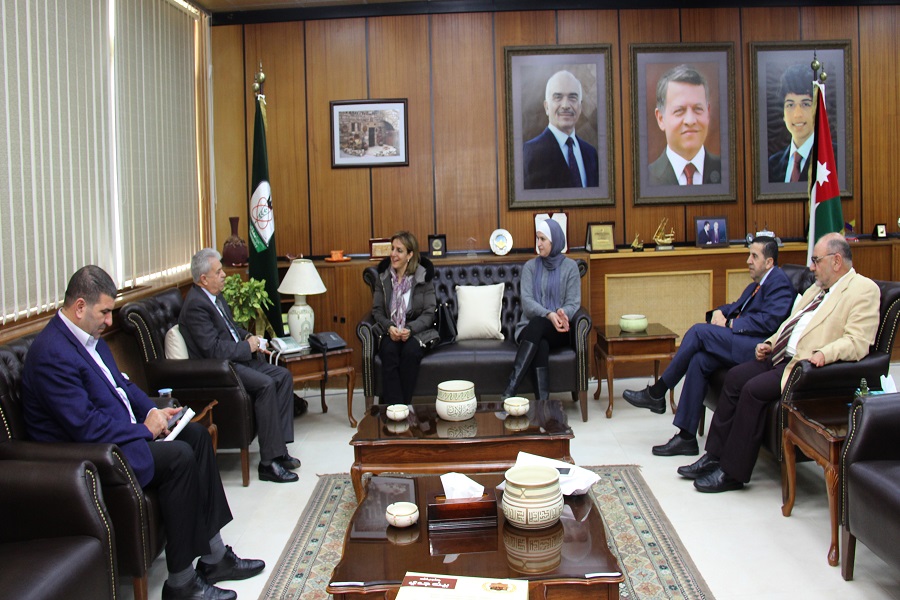 The president of YU, Dr. Zeidan Kafafi, met with Rana Al-Anani, the Senior Program Officer at the Jordanian-American Commission for Educational Exchange (Fulbright- Jordanian Programs). The two sides discussed ways of cooperation, and the possibility of YU receiving faculty members from American universities to teach in its various academic departments for a certain period, the possible grants for YU students to study in American universities, and the academic visits of the faculty members.
During the meeting, Kafafi pointed out that YU was one of the first universities to join the Fulbright program, and a key partner in terms of academic staff exchange and students grants, stressing the need to activate relationships, which contributes to enriching the teaching process at YU and to expertise exchange that have positive impact on students and the university academic status.
The president said that Yarmouk strongly believes in the importance of student's exchange, and faculty members' academic visits, that provide them with opportunities to communicate with people from developed countries, refine their personalities, broaden their knowledge, and stimulate their creative thinking, which, in turn, enable them to make desired positive changes and promote the status of our university and national institutions.
For her part, Al-Anani stressed the keenness of Fulbright in Jordan to activate cooperation with Yarmouk, the first in this field, explaining the opportunities that students and faculty members can benefit from by joining the program.
During her visit, Al-Anani gave a lecture on the scholarships they offer to students who wish to study at American universities for the master's degree, as well as educational exchange opportunities available to faculty members who wish to spend their sabbaticals in one of the American universities or teach Arabic to the speakers of other languages.
The meeting was attended by Vice presidents, Dr. Ahmad Al-Ajlouni, and Dr. Fawwaz Al-Abed Al-Haq, and director of public relations and media department, Mr. Mukhles Al-Ibbeni.