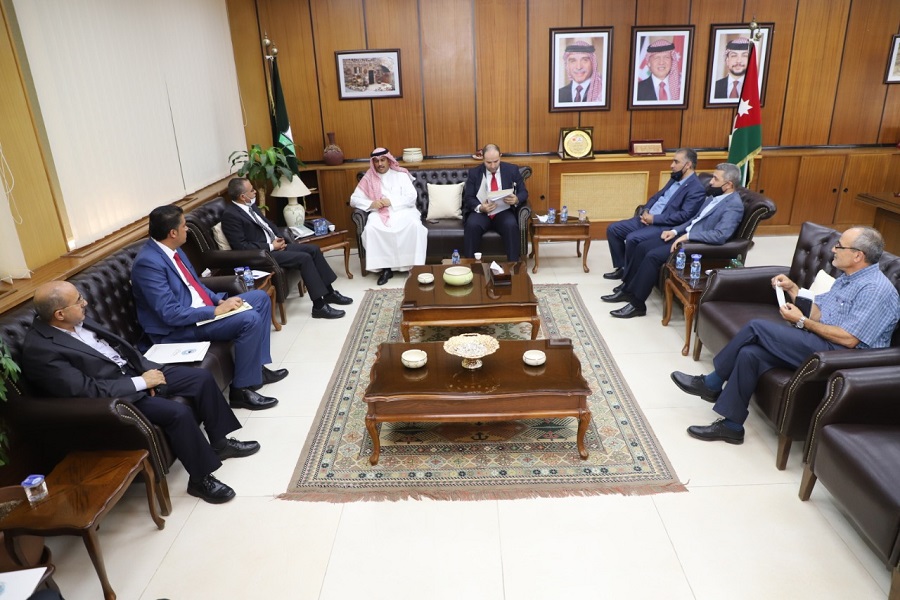 Calling them ambassadors of Jordan and Yarmouk University, the Acting President of Yarmouk University, Prof. Muwaffaq al-Omoush, expressed the pride of Yarmouk in all its students from Arab and foreign nationalities who study in the various faculties and academic programs of the university.
During receiving Dr. Badr Ali al-Mutairi, the head of the board of the Arab counselors and attaché, and his delegation in Amman, al-Omoush stated that Kuwaiti students studying at Yarmouk University represent a substantial part of Yarmouk community considering their academic level and active participation in the various activities and events organized by the Deanship of Student Affairs and other faculties. Al-Omoush then expressed Yarmouk University's willingness to receive more Kuwaiti students who wish to join the university's undergraduate as well as graduate programs.
In his turn, al-Mutairi expressed the Kuwaiti Cultural Mission's confidence in Yarmouk University and its academic reputation, pointing out that the presence of many Kuwaiti students in Yarmouk's various faculties embodies the Mission's belief in Yarmouk's prestigious status. He then acknowledged the attention paid by Yarmouk University to Kuwaiti students and other international students from various Arab and foreign nationalities regarding their on-campus and online education during the Corona pandemic.
Noteworthy here is that the meeting was attended by the Dean of the Faculty of Law, Dr. Yousef Obeidat, the Dean of Scientific Research and Graduate Studies, Dr. Ayman Hamouda, the Dean of the Faculty of Medicine, Dr. Khaldoun Al-Bashayrh, the Dean of Students Affairs, Dr. Mohammed Al-Mazawdeh, the Director of the Department of Admission and Registration, Mr. Khalid Al Harhasha, and the Director of the Financial Department, Mr. Omar Mahaftha.