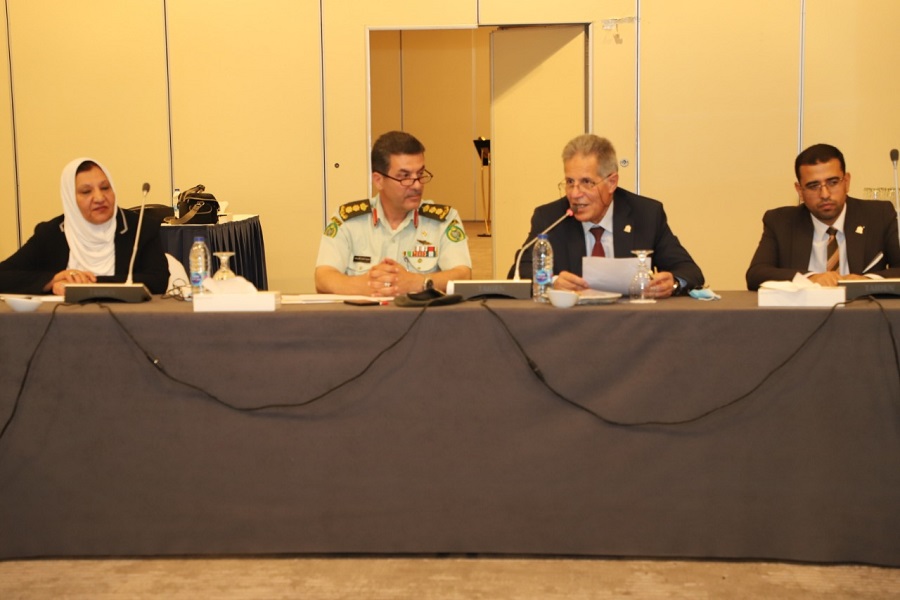 As a representative of the University's President, Prof. Zeidan Kafafi, the vice president, Prof. Anis al-Khasawneh, patronized a seminar titled "Social Media and Its Impact on the Local Community and Refugees". The seminar, which took place at the Intercontinental Hotel, Amman, was organized by the Refugees, Displaced persons and Forced Migration Studies Center at Yarmouk University in collaboration with the Directorate of Public Security and the University of Applied Sciences of the Public Service in Bavaria, Germany.
Prof. Al-Khasawneh said: "At Yarmouk University, we believe that universities are one of the most important tools of change in society and that they are the source of inspiration and innovation. Therefore, they should play a positive role in the development of our society and the preservation and sustainability of our resources". He then added that Yarmouk University has always been interested in social media, especially regarding community issues and refugees. Also, he explained that there has been a real and tremendous scientific revolution in the field of social networks in the last two decades, which has resulted in major and profound social changes at all levels, hence the importance of such a seminar is to benefit from the pros and avoid the cons of that revolution.
The director of the Refugees, Displaced Persons and forced migration studies center, Dr. Anas Al-Subh, said that based on His Majesty's article, "communication platforms or social rivalry?" the efforts of Yarmouk University continued through the Center to promote and protect refugees and members of the host community by upgrading the services provided to citizens and refugees and taking care of its protection. Therefore, Yarmouk University, in cooperation with organizations, institutions and associations of the local community seeks to achieve the desired transition in the field of strengthening the protection of humans.
However, other speakers presented several papers on the topic, including the Dean of the Faculty of Media at Yarmouk University, Dr. Khalaf Al-Tahat, Dr. Mohammed Al-Rabaa from the Faculty of Sharia and Islamic Studies, Dr. Khair Dhiabat from the Department of Political Sciences, and Dr. Mohammed Al-Ma'abreh from the Faculty of Law at Yarmouk University.