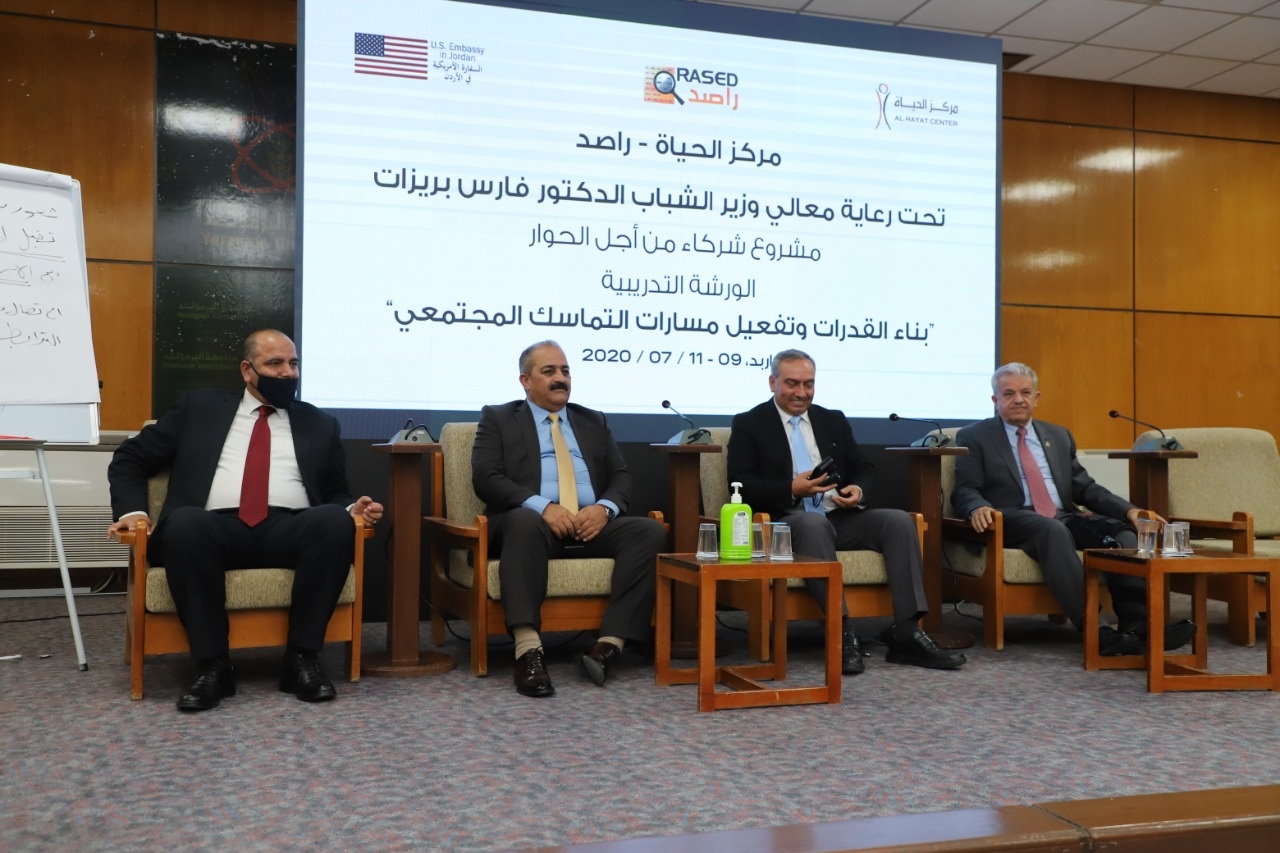 In the presence of Prof. Zeidan Kafafi, the University's President, and Mr. Radwan Al-Otoom, the Governor of Irbid, the minister of youth, Dr. Faris Brizat, launched the project, "Partners for Dialogue", which is carried out by the Center for Life "Rasid" in cooperation with the U.S. Embassy in Amman.
Celebrating that event, Brizat confirmed that Jordan has experienced social cohesion during the Corona pandemic. He stated: "we have a cohesive, integrated and strong society at the level of people and state institutions, which harnessed its potential to serve the community and its members". He added that Jordan today is one of the best countries in the world in dealing with the Corona pandemic, which is not only a result of work of the state and government as it is a result of cooperation between the state and society. Brizat also pointed out that the Jordanian social capital is to promote volunteering and development in various national institutions through the Jordanian youth.
President Kafafi in his turn confirmed that the university has always been and will continue to be the leader in serving its community stressing that it is open for all activities and programs that aim at promoting noble social values, supporting and implementing such values, and harnessing its potential for the benefit of the community. Kafafi also pointed out that Yarmouk University is always keen to deepen the values of solidarity among its students through a series of voluntary initiatives implemented by the Deanship of Student Affairs as well as other departments and programs of the university faculties.
On the other hand, Mr. Al-Otoom stated that Irbid, the cradle of civilization, history and culture, represents an example of community cohesion during the Corona pandemic. He added that citizens with their awareness and sense of responsibility have helped the government get more aware of its own abilities to overcome challenges and difficulties and get out of crises with the least damage.
The Director General of the Center for Life- Rasid, Dr. Amer Bani Amer, thanked Yarmouk University for its constant efforts in supporting the process of reform and development in Jordan, as made evident in hosting such a project. He added that this project of dialogue aims at spreading the principles of dialogue as well as community cohesion and non-violence.
Noteworthy here that the launch of the project was attended by Prof. Anis Al-Khasawneh, the Vice President for Administrative Affairs, Dr. Hussein Al-Jubour, the Secretary General of the Ministry of Youth, and several officials from the university and the ministry.